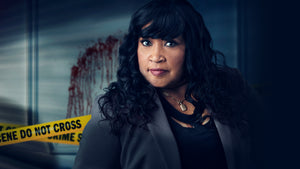 "As Luck Would Have It" Now Streaming on Lifetime
LMN debuted the three-part movie series event, As Luck Would Have It, starring Jackée Harry (Days of Our Lives) as Gabbi Luck, a retired professor turned amateur sleuth who uses her background in criminology to help solve murders. The three movies debuted Thursdays at 8/7c beginning August 31, and were produced by Hybrid Films.
Other stars include Mea Wilkerson (
Keeping Up with the Joneses
) as Detective Lisa Luck, Doug Rogers (
S.W.A.T
) as her partner Rick Anderson, Dorian Gregory (
Charmed
) as police psychologist Dr. Nolan, Tracy Nelson (
Father Dowling Mysteries
) as fellow detective Barbara, Tom Arnold (
FUBAR
) as Captain Taylor and Ricco Ross (
Aliens
) as Gabbi's ex-husband Michael.
As Luck Would Have It: Murder 101
When Gabbi's (Harry) former associate Charles David (Jon Bridell, CSI: Vegas), the Dean of Criminology at Williams College, is found murdered the morning she is to deliver a guest lecture, classes are cancelled, and an investigation quickly ensues. Gabbi finds herself at the center of the investigation of the murder alongside her daughter, Lisa (Wilkerson), who happens to be a detective on the case, and the two must put aside their petty disagreements to help solve the crime. 
As Luck Would Have It: Old Flames, New Fires
When her father, Michael (Ross), becomes a person of interest in the untimely death of his ex-business partner, Wayne (Will Roberts, Oppenheimer), Lisa (Wilkerson) must do whatever she can to help. Though reluctant to do so, this means she will need to enlist the aid of her mother, Gabbi (Harry), to lend a hand (and her brain). Together, they work through the list of other possible suspects, including Wayne's jealous ex-wife, his new business partner, and the business manager who knew where Wayne had been hiding his money.
As Luck Would Have It: Murder for Sale
Gabbi's (Harry) longtime friend, Kimberly Stark (Helene Udy, Dr. Quinn, Medicine Woman), is finally selling her home after residing in it for many years. But the morning after the very first open house, her broker is found dead in her foyer. Naturally, Kimberly turns to Gabbi for help but there are few leads and it's initially presumed that this was a simple burglary gone wrong. But after questioning Kimberly, Gabbi points Lisa (Wilkerson) and her partner Rick (Rogers) in another direction.
---