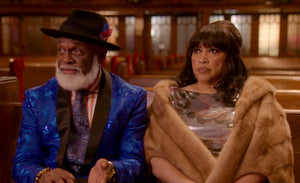 "So Fly Christmas" Premieres Nov. 23 on BET+
Here's your first look at So Fly Christmas, the upcoming BET+ holiday movie starring Tichina Arnold (The Neighborhood, Martin), Tami Roman (The Ms. Pat Show, Truth Be Told), Robert Christopher Riley (The Pass, Greenleaf), and newcomer Laurissa Romain (Son of The South, Top Five).
Written by Clarence Williams IV and directed by Terri Vaughn (Soul Santa, Unthinkably Good Things), the movie is currently set to debut on BET+ on November 23.
Synopsis reads: After being stood up at the altar on Christmas Eve, Wyvetta (Tichina Arnold) loses her love on her favorite holiday. To show solidarity, Wyvetta's best friend, Dione (Tami Roman), suggests that the two of them renounce love. Things become complicated when Dione falls for a mild-mannered record store owner (Robert Christopher Riley) and tries to keep it under wraps.
The ensemble cast includes Gary Budoff (professor), with Tommy Davidson (Pastor), Jackee Harry, and Michael Colyar playing Wyvetta's parents. 
The film is produced by Worldwide Entertainment and Media in association with Choice Films for BET+. Produced by Pierre Romain, Julie Solinger, and Marc Johnson. Executive Produced by Summer Crockett Moore, Tony Glazer, Tichina Arnold, Tami Roman, Maureen Guthman, Devin Griffin, and Jerry Leo for BET+. Co-executive produced by Lorisa Bates and Marvin Neil. Co-Produced by John Baldasare, Noelle Broussard, Rene Rodriquez, and associate produced by Anthony Commodore.
"Getting to direct such a fun script, with the brilliance of Tichina Arnold and Tami Roman leading a cast of talented actors was a no-brainer for me. I love comedic stories with messages and hearts, and these actors delivered in every way," said Terri Vaughn.
Clarence Williams IV: "Writing this film has been a dream come true. I'm immensely grateful for the opportunity provided to me by Worldwide Entertainment and Media and BET to contribute to a legacy of storytelling within a network that has long celebrated the richness of Black culture."
https://deadline.com/2023/10/so-fly-christmas-bet-tichina-arnold-tami-roman-1235569032/ 
---