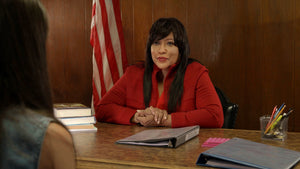 "The Wrong Cheer Captain" Premieres Aug. 29
*Lifetime's new film "The Wrong Cheer Captain" is scheduled to drop at the end of this month (Aug. 29) and will star Vivica A. Fox, who will also executive produce, Jackée Harry, Claire Tablizo and Sofia Masson in a thrilling mystery when the death of a cheerleader leads to a list of suspects, including the new cheer captain. Also on the horizon for Lifetime is another addition to its "Fear the Cheer" film anthology.
This is Lifetime's third annual cheerleader lineup and will feature six new movies and will begin airing on Aug. 28.
Other films in the lineup are Killer Cheer Mom starring Richards and Calabro; as well as Pom Poms and Payback; Deadly Cheers; Cheer for Your Life; and Webcam Cheerleaders.
The mysterious death of Emma saddens everyone, but it just makes Kate (Alexis Samone) suspicious and she believes she has the perfect suspect in Anna (Sofia Masson), the newly appointed captain of her cheer squad. As Kate searches for the truth behind Emma's death, she soon becomes a target.
The film is produced by Hybrid, LLC.
---