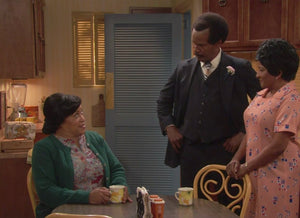 Watch "Live In Front Of A Studio Audience" On Hulu
In the mood to feel a little nostalgic? ABC has you covered! The network aired Live in Front of a Studio Audience: Norman Lear's All in the Family and The Jeffersons on May 22, and it brought a taste of 1970s television into the present day. If you missed the premiere (or if you want to watch it again), don't stress: There's still a way to stream the special anytime you'd like.
The episode is available on Hulu, which means it's just a click and a bag of popcorn away. If you don't have the streaming service, you can test it out with a free trial, which gives you access to all of their content for thirty days. (Yes, really!) After that, a subscription for the basic package costs $5.99 per month.
That bargain price is certainly worth it, even if you're just using Hulu to watch the mashup of the two classic TV series! The show was hosted and produced by Jimmy Kimmel, and stars many celebrities you know and love.
Also making an appearance is 96-year-old Norman Lear himself, the producer of the original versions of All in The Family and The Jeffersons.
Whether you remember the classic from your time as a kid, or if you've never seen either program before, this 90-minute comedy will be a delight to many audiences.
Source: countryliving.com
---